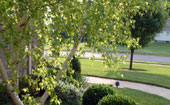 Tree and Shrub Pruning
Pine and Hardwood Mulch
Overseeding
Core Aeration
Seasonal Flowers
Weed Control
Leaf Removal
Fertilization
Irrigation Maintenance

Core Aeration
Aeration is the process of mechanically removing small plugs of thatch and soil from a lawn to improve soil structure and reduce compaction, in turn promoting more vigorous lawns with reduced maintenance requirements.
Reducing compaction allows grass to produce stronger, healthier root systems and allows fertilizers to more readily reach those roots. Aerated lawns also absorb water more readily, reducing water runoff and puddling.
Aerated lawns almost never develop damaging thatch layers are more resistant to heat and drought. Lawns that have been aerated are even more comfortable to walk on, as the soil is more resilient.
When should Lawns be Aerated?
Whalen Landscape Services recommends annual aeration at a minimum, with two or more treatments for lawns growing on heavy clay or subsoil and lawns exposed to intense use. Spring and fall are ideal times to aerate. Fall is generally considered the best choice, as it follows summer's stress.
Tip: Aeration time is also a good time to think about fertilization and overseeding. Aeration, in combination with fertilization, enhances root growth and improves spring green-up. Overseeding at the time of Aeration is a great way to thicken up a thin lawn or introduce better grass types.
Simply spreading grass seed over a lawn yields very poor results. Aerating cultivates the soil, greatly improving the results. Tufts of new grass will grow out of the aeration holes and then "tiller-out" and thicken up the lawn.