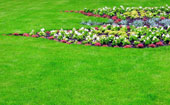 Tree & Shrub Installation
Planting Area Preparation
Seasonal Flowers
Planting Area Border/Edging

Healthy lawns are the foundation of the vegetative showpieces that typically feature flowers, shrubs and trees. Whalen Landscape Services has the experience and the equipment to fill all your Memphis landscaping needs. Some of our basic services are listed below.
Tree & Shrub Installation includes both planting and transplanting.
Planting Area Preparation includes amending the soil and tilling.
Seasonal Flowers are the crowning glory of many landscaped residences.
Planting Area Border & Edging can take seasonal flower beds to new heights. Whalen Landscape Services can create an attractive home for your flowers using a variety of materials, including field stone, concrete borders, steel edging, landscape timbers, and railroad ties.