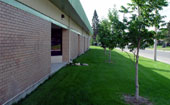 Building Maintenance
Onsite Representation
Sweeping Services

Memphis area commercial companies looking for property management and maintenance need look no further. Whalen Landscape Services is specialized for clients that require building maintenance and management but want to avoid the costly expense of working with real estate leasing agencies. We offer these basic services:
Building Maintenance - We can dispatch a complete team to handle all your building maintenance needs.
Onsite Representation allows the tenant to contact Whalen Landscape Services if there are any problems. This service also provides a Whalen representative to show the property to new, potential tenants.
Sweeping Services include parking lot sweeping.