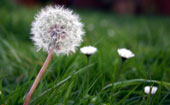 Tree and Shrub Pruning
Pine and Hardwood Mulch
Overseeding
Core Aeration
Seasonal Flowers
Weed Control
Leaf Removal
Fertilization
Irrigation Maintenance

Weed Control
The best weed control plan focuses on prevention, followed by direct action against any weeds that break through your defenses. Whalen Landscape Services can help you maintain a healthy lawn that is relatively weed resistant.
But Whalen Landscape Services is also ready to attack the weeds that will inevitably infiltrate even the best lawns. Specific chemicals can be used against the two major lawn weed groups - broadleaf (onions, clovers, dandelions, etc.) and grassy weeds (crabgrass and dallisgrass). However, these chemicals are only effective within certain temperature ranges.
Let Whalen Landscape Services create a holistic strategy for your lawn that emphasizes both prevention and offensive action.